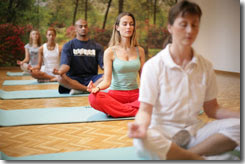 It is hard to find time to meditate however you don't need long. Even quick 5 to 10 minute meditations can be effective to help you calm your mind and get rid of stress.
I have listened to hundreds of interviews with successful entrepreneurs, and super humans, and found that many of them meditate. They often find it so beneficial that it is stated as the one daily habit they have that they believe really helps them.
What are some of the benefits of regular Meditation?
Release of anxiety
Improved focus when not meditating
Less age related deterioration of the brain
Better Memory
Getting started with Meditation
We recommend to get started you either get a Meditation app, or use one of the YouTube videos we have listed below. Its best to try to make meditation a daily habit if you can, not much point in doing one session every now and then. Think of it like regular exercise for the brain.
Meditation Apps
The "Get Some Headspace" app is great for 10 minute meditations https://www.headspace.com/. You signup and the guy talks you through every step. All totally free of charge.
The app takes you through ten days of ten minute guided meditations. Install the app, plug in your headphones and find a quiet spot.
10 Minute Meditation Videos
10 Minute Guided Meditation
Total Relaxation — 10 Minute Meditation