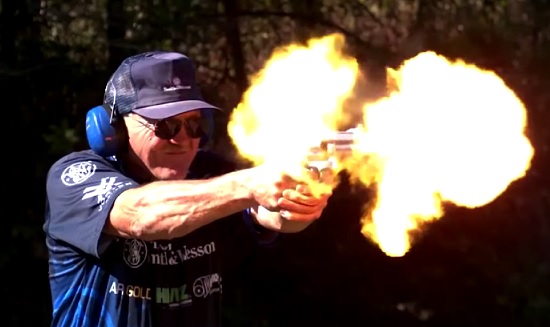 Jerry Miculek operates a gun like it is an extension of his hand.
Most people consider him one of the world's greatest shooters.
He has broken over 20 world records and is known as the fastest shooter in history having emptied a revolver in 0.57 seconds - a feat that can only be described as amazing.
Early Life
Jerry Miculek was born September 7, 1954 in Freeport, Texas.
Three days later, his family moved to the southern part of the state of Louisiana.
He lived there for 37 years before relocating to Northern Louisiana.
Despite the fact that he is the third born in a family of 5 boys, Jerry shares a name with his father by virtue of sharing a birthday with his father.
Growing up the young Jerry was less interested in sports and more interested in shooting and hunting.
He developed a remarkable talent for the two activities which his parents supported and encouraged.
He describes himself as an accomplished handyman and is interested in machines, mechanics and the general mechanics of various machines including revolvers, rifles and even lawn mowers.
Superpower details
His accomplishments are as numerous as they are amazing.
Jerry Miculek holds a staggering 100+ shooting titles which include International Revolver Champion which he has won 21 times over.
He is also holds the title of Revolver Champion 10 times and the 8 time National Revolver champion.
It is clear that no one can handle a gun quite like he can seeing as he is in a class of his own as one of the very few people to ever hold a lifetime achievement award in shooting.
All of his titles are great and more than one person can accumulate in a lifetime but it is his ability to shoot very fast that has made Jerry Miculek a legend.
In 2003, Jerry fired 6 shots from 10 individual revolvers in 17.12 seconds to set a new world record.
He broke Ed McGivern's record of 25 seconds.
More recently in 2013, he fired 6 shots from a rifle in just 0.98 seconds and later that same year he fired 5 shots from a pistol in 0.82 seconds.
He would further wow audiences around the world when in July 2014, he used two .233 pistols to fire 19 shots in just 3.10 seconds aiming at 5 different targets.
This was after he fired 16 shots at a single target from a revolver in July of 2014.
His prowess with guns has continued to capture the imagination of many of his fans who often wonder what his next accomplishment is going to be.
What he has accomplished seems impossible but most who have seen him in action will tell you that Jerry Miculek excels at making the impossible seem possible.
It is also quite clear that he intends to continue wowing audiences around the world with his shooting skills.
Jerry Miculek Youtube Video
What we can learn from him
Looking at his accomplishments, two things stand out; he works to improve his previous performance and he clearly loves what he does.
Therefore what we can learn from Jerry Miculek is very simple; passion and hard work will get you where you want to be.
Having developed a passion for shooting at a very early age, Jerry spent his free time perfecting his shooting skills to the point they seem to be engraved in him.
His very many titles and records prove that he works very hard to best his last achievement.
When you combine his passion for shooting and his constant desire to improve his skills, you get a powerful shooter whose abilities seem super human.
His hard work however, proves that his abilities are not superhuman at all but achievable.
Genetic or Learned Super Power?
In this case, due to the incredible amount of time Jerry has spent perfecting his super human shooting skills, we would have to say that this is a learned super power.
What he is currently doing
He continues to set records with his incredible shooting skills.
He also interacts with his fans on his YouTube Channel where fans can stay updated on his latest record breaking activities as well as watch videos of Jerry in action.
He runs a company, Bang Incorporated where he offers shooting and gun safety lessons to interested individuals.
His official website is also full of information on his latest activities.
In 2014, Smith& Wesson released a 9 mm revolver that Jerry Miculek helped design.
Smith & Wesson endorse Jerry and created the S & W625JM Model in his honor.
His daughter, Lena and Wife Kay Clark are also accomplished shooters in their own right.
His daughter was crowned best female shooter at the World Shooting Championship 2014.
Videos and Links
Official Website
Jerry's Facebook Page
Fastest Shooter of All Time!
Image credit